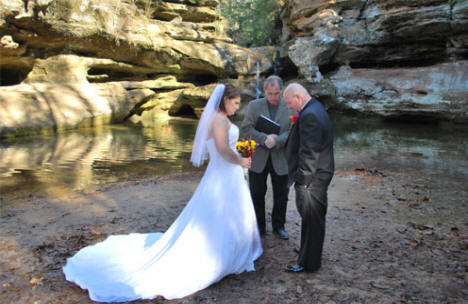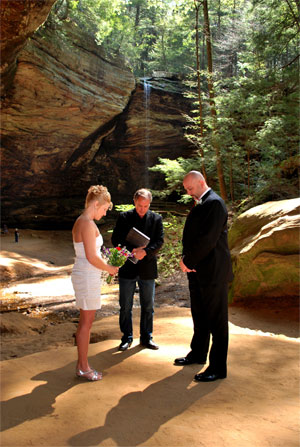 The Traveling Chapel
14435 Nickel Plate Road Logan, Ohio 43138
740-385-1687
The Traveling Chapel of the Hocking Hills will come to any location in the Hocking Hills to perform your Wedding. The difference with The Traveling Chapel is that you choose where your Wedding Chapel will be; let your imagination run free. You are not restricted with the Traveling Chapel Hocking Hills Weddings. Whether you prefer indoors or out, small wedding, large wedding or elope in style, The Traveling Chapel offers you extraordinary Hocking Hills Wedding choices at affordable prices.
Our Intimate Wedding Package includes Wedding Ceremony with Minister, Personal Wedding Planner with 6+ years experience and Hocking Hills Wedding Photographer. Rose bouquet, (your choice of color) Boutonniere, Wedding Music and Personalized Copy of Vows. Unity Candle, Sand Ceremony and other wedding packages are available. Look on our Hocking Hills Wedding Packages page for more information about all of the wedding ceremony choices that the Travel Chapel offers. Let us help you make your wedding a special day. No matter what your dream wedding is, the Traveling Chapel staff is here to help make your dreams come true. Check out our photo gallery pages for some Hocking Hills wedding ideas to inspire you!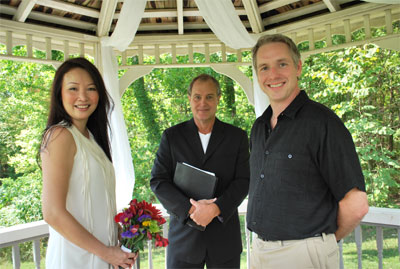 How to obtain a Marriage License if you intend to marry in Hocking County:
If you live in Ohio, but neither of you live in Hocking County, you must obtain a
marriage license in the county in which one of you resides. You must get the license before coming to Hocking County for your wedding.
Ohio Marriage License information is below.
If you're not from Ohio or if one of you lives in Hocking County:
Obtain your license at the office below.
Hocking County Probate Court
Court House
Main Street and Market Streets
Logan, OH 43138
740.385.3022
ID Requirement: Government issued ID such as drivers license, visa, passport, state ID. You need to know your social security numbers.
Residency Requirement: Do not have to be a resident of Ohio. You must apply in the county in which you want to get married.
If previously married: Bring certified copy of divorce decree or a copy of deceased spouse's death certificate.
Application Requirement: Both parties to a marriage should appear in person to obtain the license.
Fees: $40. Cash only.
Waiting Period: No waiting period